What is Biodynamic Whisky?
, by James Pham, 4 min reading time
We've covered a variety of whisky trends and campaigns from distilleries in recent months. In today's post we introduce biodynamic whisky; what it is, the potential pros and cons and explore which distilleries are getting behind it. 
What makes it different?
The principles of biodynamic whisky match those of the more recognised biodynamic wine - no chemical pesticides or fertilisers are used on the barley, and the soil is treated as part of an ecosystem that maintains itself through natural processes.
Is it worth it?
Sceptics of the method argue that the distillation process nullifies the benefits of specialist terroir - something that may apply to biodynamic whisky as well (you can read our previous post exploring the importance of terroir here). However, there have been studies that prove the effects of terroir, and biodynamics may well be the same. 

Regardless of taste or other possible benefits of biodynamic practises, these methods are positive for the environment. Perhaps that should be enough for more distilleries to get behind this way of producing whisky, regardless of the end product.
Who is making it?
Speciality Brands 
Speciality Brands is launching what it claims is the "world's first" biodynamic whisky through its Waterford brand.
Called Biodynamic: Luna, the 50% abv drink was distilled from rare barley varieties that were grown using biodynamic farming methods, said Speciality.
It is billed as having a "rich, oily texture with notes of fruit, fresh soil, lemon drizzle cake, cloves, almonds, milk chocolate and a touch of fresh mint tea".
The drink will be available to the on-trade this month. It will simultaneously roll into the off-trade via selected independents and specialist retailers (rsp: £89.95/700ml).
Three Irish farmers – Trevor Harris, John McDonnell and Alan Mooney – were responsible for growing the biodynamic barley.
Each ran their farm "according to esoteric principles derived from a 1924 series of lectures by the Austrian polymath Rudolf Steiner", said Speciality.
Steiner created a codified agricultural system for post-WW1 farmers, who were worried about the industrialisation of agriculture, the degradation of the land and the loss of millennia of farming know-how, it added.
Practices include burying manure-packed cow horns to "ferment" underground and creating plant treatments and natural compost fertilisers to stimulate microbial activity, all following the natural rhythms of the lunar calendar. The purpose is to produce a chemical-free "living soil".
Biodynamic farming practices have been widely accepted in the wine industry, but few distillers have adopted them.
Waterford Distillery CEO Mark Reynier said biodynamics was "the culmination of 16,000 years of agricultural optimisation… before the vicissitudes of industrialisation and intensification dumbed down individuality".
Reynier said: "During my career I've had the fortune to taste the world's greatest wines. It's no surprise to see the ever-increasing adoption of biodynamics in the search for intensity and purity of flavour. If for the grape, why not the grain?"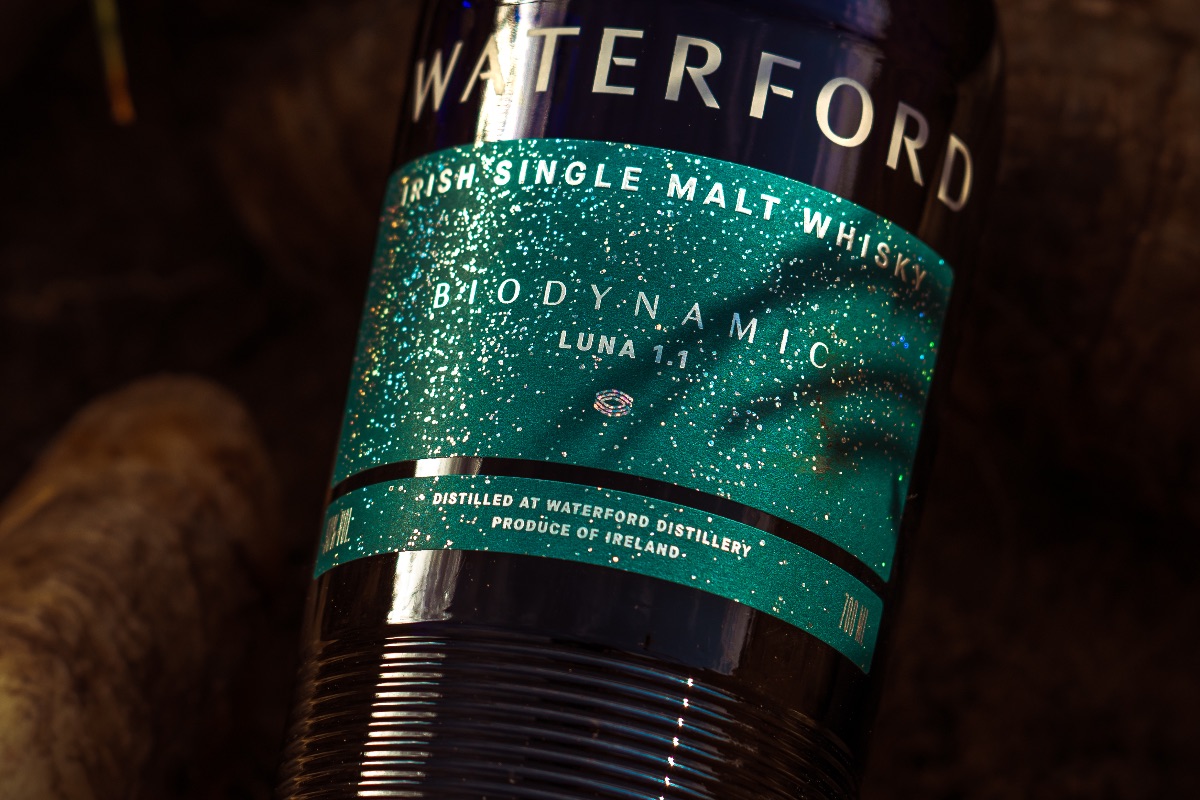 (Image source: Waterford Whisky)
Bruichladdich
Bruichladdich, meanwhile, has launched The Biodynamic Project; the world's first biodynamic Scotch. 
Bruichladdich has launched The Biodynamic Project, the second in a series of small-batch experiments taken from the inner workings of Head Distiller Adam Hannett's sample room.
Bruichladdich The Biodynamic Project was created from a Westminster crop of barley planted and harvested in the summer of 2010 at the biodynamic certified and carbon-negative Yatesbury House Farm. Distilled at Bruichladdich in 2011, it was matured for 10 years in first-fill ex-American oak casks and bottled un-chill filtered and colouring free at 50% ABV as the world's first biodynamic Scotch whisky.
The Biodynamic Project is described as having aromas of "ripe peach, vanilla custard, candied orange, Turkish delight, dried apricot, brown sugar, barley straw, crisp apples, poached pears, and syrup." On the palate, it has "a succulent mouthfeel, with peaches, creamy vanilla, caramel chocolate, gentle oak, floral notes, honeysuckle, rose, and geranium." It concludes with "citrus notes, marine air, toffee, and long-lasting notes of malt sugar and porridge" on the finish.
The Biodynamic Project is limited to 5,000 bottles and is available exclusively via the Bruichladdich website at a price of £100.00 for a 700ml bottle.


(Image Source: Yatesbury Farm, Bruichladdich)
Closing thought
While biodynamic farming has been widely accepted in the wine century for some time, few distillers have so far embraced it. 
It will be interesting to observe whether more distilleries follow suit and what expressions come out of it. 
Looking for the perfect whisky gift this Christmas? View our range here. 
---
Best sellers
Introducing the best-selling spirits at JPHA, where exceptional quality meets unparalleled taste. Our carefully curated collection offers a diverse range of spirits that cater to the discerning palates of spirit connoisseurs and casual enthusiasts alike. From classic favorites to unique and innovative blends, our selection promises to elevate your drinking experience.
, by James Pham

Shop Hennessy Brandy & Cognac: Online Bottle Delivery

, by James Pham

The Best Single Malt Whisky: Guide To Top Choices & Tasting Tips

, by James Pham

Johnnie Walker Blue Label: UK's Finest 70cl Blended Scotch Whisky Gift